Ukraine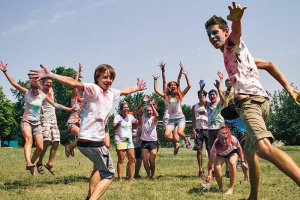 Ukraine Summer Outreach
The ongoing war in Ukraine has deeply impacted the young generation, as many Fathers are fighting on the front lines, and regular air raid sirens send families into the basements for protection. Over 8 million people are internally displaced and 7 million have fled to surrounding countries as refugees.
This summer, the Josiah Venture team is working to reach these Ukrainian young people through summer camps and outreach events. We are providing full scholarships for 2,000 young people to attend week-long camps, both in Ukraine and in the surrounding countries. In addition, we are initiating over 50 creative outreach events in 15 countries, with a goal of reaching another 2,000-3,000 young refugees with the good news of Jesus.
This is a unique opportunity to bring spiritual care to hurting Ukrainian young people. Would you consider giving a gift to help us cover the cost of outreach events or help us provide scholarships for Ukrainians to attend these strategic camps? Your donation today to our Ukraine Summer Outreach fund will directly support this effort.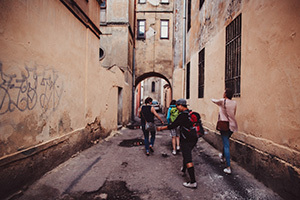 Ukraine Crisis - General Fund
Josiah Venture is responding to the urgent crisis in Ukraine in two ways: by supporting the work of our team and local churches on the ground inside Ukraine and by assisting Ukrainian refugees as they move into neighboring countries.

Most of our JV Ukrainian national missionaries are currently staying in Ukraine to serve those around them. They are coordinating with churches inside Ukraine to provide desperately needed shelter, food, evacuation, medical supplies, personal care, spiritual encouragement, Bibles, and the hope-filled message of the gospel during this crisis. Some of our missionaries have even been put in charge of city-wide operations for emergency aid, shelter, and refugee care.

Our JV staff in Poland, Czech Republic, Slovakia, Romania, and Hungary are assisting refugees coming across the Ukrainian border. We are prepared to provide full-scale accommodations for up to 400 refugees in and around our training centers in the coming weeks, as well as help them flow through to local churches for long-term care. Most of these refugees are women and children, many of whom had to leave their husbands in Ukraine since they are required to stay and defend the country.

Our team is making sure they have food, clothing, personal items, supplies for small infants and children, personal counseling, Ukrainian-language Bibles, and many other practical and spiritual needs.

We are supporting them throughout this crisis and preparing up a long-term program for providing assistance afterward. Your donations to our Ukraine Crisis Fund will directly support this effort.
You can give by:
1. BAC
Bank Automated Credit is the easiest way to give regularly or to send a one-off gift.
You can set this up yourself on the payments facility on your internet banking.

Our details are:
Account Number: 19140853
Sort Code: 835200
To give to our Ukraine Crisis fund, please enter as a Reference: 514500/your surname, your initial
If you would like to designate your gift to buy:
A Food Package weighing 2-3 tonnes and feeding approximately 250 people, cost: £4,000
A Medical Aid Package that contains Medicine and Supplies to assist between 500-1,000 people, cost: £7,500
A van to distribute aid across Ukraine, cost: £15,000
A Bus rental for 50+ refugees and a driver, cost: £1,500
Refugee care for 1 day including housing, food and transit, cost: £100
A Spiritual Resources package with approximately 25 Bibles or bible studies in Ukrainian, cost £95

please give the amount indicated and enter as a reference 514501/your surname, your initial
(if you give by this method, and don't fill in a gift aid declaration, we will not have your contact details. Email us: donors@josiahventure.org.uk if you would like us to keep in touch or send you a receipt)
2. Debit or Credit Card
If you would like to give by Debit or Credit Card, you can make your donation by clicking here.
3. Cheque
If you would like to send a cheque, please make it payable to Josiah Venture UK and post to:

Josiah Venture UK
27 Glen Shee Avenue
Neilston
East Renfrewshire
Scotland, G78 3QE

Please ensure you include your contact details, and that you are supporting the Ukraine Crisis fund, or wish to designate your gift for one of the items above.
Gift Aid Declaration
If you are a UK taxpayer, you can Gift Aid any donations you make. Gift Aid is a government scheme which enables JVUK to reclaim 25p for every £1 you give at no extra cost to you from the tax you have paid or will pay. In order for us to claim, please complete the declaration, and ensure you include your name, address, and post code in the contact details section.